Vijay Multispeciality Dental Hospitals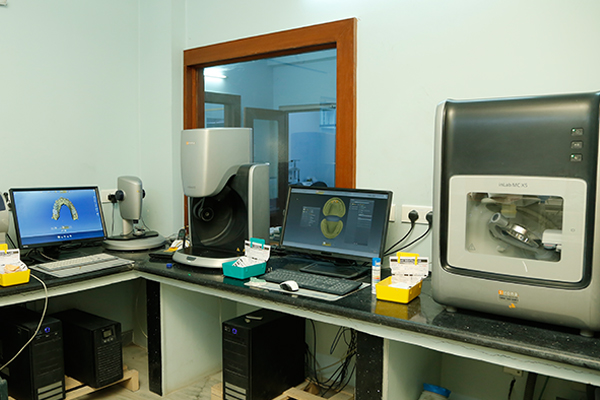 If you are in urgent need for dental treatment in and around the areas of Madinaguda, Miyapur and Kondapur, then Vijay Mulitspeciality Dental Hospital would be the right place to go. Being one of the top notch dental care centers in the city, it provides both primary and tertiary oral care services with no compromise in quality. It is the first dental hospital in the twin states of Telangana and Andhra Pradesh that has an in-house CAD/CAM facility. The man behind this reputed organization is Dr. YD Vijaysimha Raju, who has a never ending zeal for the provision of quality dental care. Because of the hard work of his team, this dental center has seen phenomenal growth over the years.
At Vijay Dental, oral and dental care is provided with a service minded basis, rather than for personal gains. The treatments are provided in a very stress free environment. Also, these facilities come at reasonable costs. Due to these reasons, the center has become a center of attention for the local people. The institution is aimed at replicating this fame and trust to a much global level by exploiting its resources.
The multi disciplinary approach allows patients to access treatments in a wide variety of medical field such as Aesthetic dentistry, Prosthodontics, Endodontics , Periodontics, Implantology, Oral and Maxillofacial Surgery and Orthodontics. As mentioned above, the dental health center has one of the highly skilled professionals in it. These entire specialists have 5-10 years of experience. A well trained staff provides adequate support to them. In order to ensure at the treatments are performed with outmost perfection, the center houses a sophisticated lab having high end medical equipments.
All the major sorts of dental procedures like crowns, bridges and crowns are of superior quality. All these factors have helped the older patients in bringing their smiles back onto their faces. Talking about smile, if it is the smile pattern that matters to you, we have remedies for that also. Provision of numerous smile designs and teeth beautification is performed irrespective of the patient's age. We also give a high priority to preventive dentistry. Proper awareness and treatment is given to children and their concerned parents.
Services that we offer :
An avant-garde infrastructure and a refreshing environment have carved out a unique character to Dr.Vijay Mulit Specialty Dental Hospital. One can feel free in consulting, get his/her dental problems solved satisfactorily and come out happily without burning his/her pocket. Solutions to the dental problems come with minimal pain and maximum quality. We also gives stress on the preventing measures too, to ensure that one do not come with the same problem again. Counseling procedures are also given to those anxious and doubtful patients.
Situated in the 3rd floor in Tesla Diagnostics, the entire facility is fully computerized and only the latest techniques are used here.
Our Specialities :
Replacement of Missing Teeth with Implants & Fixed Bridges
Correction of Irregular Teeth by Orthodontic Treatment
Root Canal Treatment by X-Smart Protaper in single sitting
Flap Surgery for Gum Diseases etc
Smile Designing with Veneers, Laminates & All ceramic crowns
One sits teeth whitening by zoom bleaching
Implant supported dentures
Fissure sealant for children's teeth
Cosmetic & Maxillo facial surgeries
Grafting
Deep cleaning