Treatment of Specially Challenged Children
Children who are physically challenged may not only face problems in performing daily activities, but may also unable to maintain general and dental hygiene. Generally, these patients may require continuous assistance from loved ones to look after them.
What are the dental problems faced by children?
Physically challenged children may have limited skills, making them unable to perform routine dental care such as flossing, brushing, and using a mouthwash. Mentally challenged children may lack the cognitive skills to manage their dental needs without seeking assistance from a caregiver. Challenged children are at greater risk of developing dental caries.
Additionally, most children are exposed to gingival and periodontal problems as a result of heavy plaque and calculus deposition on the teeth. Soft tissue trauma and infections are very common in children with neuromuscular disabilities.
Managing dental problems in disabled children
Usually, dental procedures for handicapped children are carried out under conscious sedation or general anesthesia as they can become restless or may have difficulty keeping your mouth open for long period of time. Parents should give attention to children's teeth at home.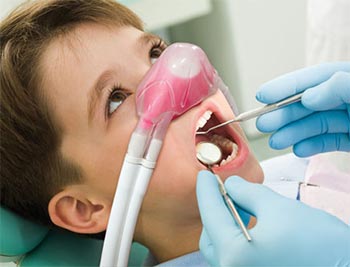 Monitor your child during brushing, flossing and make sure he/she splits toothpaste after brushing and does not swallow it. A toothpaste containing fluoride is good for these children and prevents the risk of carrying any germs and other dental problems.
If you have any doubts regarding your child's dental health, do not hesitate to ask our dentists to make dental care a better experience for your children.