Maxillofacial Trauma Care
Any injury occurred on to the face or jaws are defined as the maxillo –Facial Trauma. Facial Trauma can be identified by the presence of burn, skin laceration, and obstruction in the nasal cavity or sinuses, broken or missing teeth. The accidents are the main cause for the Maxillo Facial Trauma.
The various symptoms of maxilla facial trauma includes pain, swelling, bruising, numbness, bleeding. If there are fractures on the face it may even cause difficulty in breathing, speaking and seeing. The maxillofacial trauma is also diagnosed from the life threatening symptoms like brain injury, excessive bleeding, and airway obstruction.
The treatment for the Maxillo-Facial Trauma is performed on the basis of the severity of the injury. The treatment includes a careful diagnosing which may use various comprehensive physical exams and various procedures to solve the detected issues. The treatment for maxilla facial trauma will require controlling the bleeding, airways, and prevention of infections repair of lacerations or soft tissue injury, repairing of bone fracture.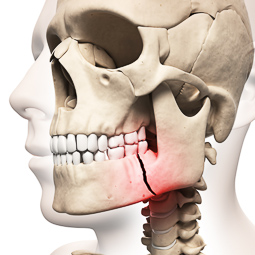 The issues caused due to maxilla facial trauma might require treatment for various complex issues that is dependent on the patient's situations. The situation involving a Maxillo facial trauma is mostly critical in nature and has to be treated with much intensity and faster. The advance technology has provided the options like CT scan and 3D CBCT scan that can improve the diagnosing process. And it will help the dentist to formulate the most effective treatment plan for the patient's situation.